3 Days Tour to Mount Bromo and Ijen Volcano Start from Yogyakarta and finish in Bali
3 Days Tour to Mount Bromo and Ijen Volcano Start from Yogyakarta and finish in Bali, is a tour program by Osing Vacation
Or you also can choose the starting point in Surabaya or malang also in Probolinggo.
This Tour Package is all included :
✔️Pick up service from anywhere in Yogyakarta or surabaya by a private car or train depending on what you mentioned to us
✔️All hotel during the Tour around Mount Bromo and Ijen Volcano
✔️All toll fees
✔️All entrance tickets
✔️Jeep on Bromo mountain
✔️Equipment during the Ijen Volcano to see Ijen blue fire on the Crater ( gas mask, torches)
✔️Private guide a long the Tour since the beginning till the end of the tour
Note : ⚙️
The tour package also available for custom stop address, mean just mention to us about where we should drop you off when the tour end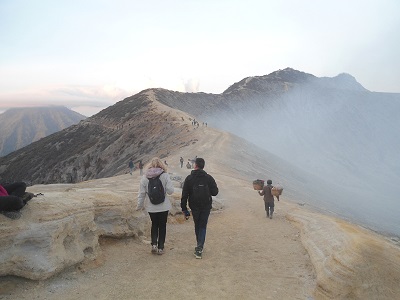 The itinerary is flexible,
And if you don't have Any plan for itinerary here is our regular package itinerary:
Pick up from Yogyakarta, Surabaya, or Probolinggo
Drive to Bromo area then check-in to hotel

take arround 2 hours from surabaya and 9 hours from yogyakarta

Program free in a few hours ( we can use this primetime for look around and rest )
In the midnight we will wake you up to take a jeep for Bromo trekking
Arrival on the top of sunrise spot that we ha planned before

it will be 3-4 spot we visit in bromo area penanjakan, kingkong hill, seruni point and the mountain itself

Enjoy the sunrise
Drive by jeep to the Crater of Bromo
Trekking continue by foot to top of Mount Bromo crater
Enjoying the sea of the Sand
Back to hotel
Get breakfast and then continue drive to Banyuwangi city ( the City where the Ijen Volcano exist )
Said we arrived in Banyuwangi City arround 4 pm, depending on the traffic condition
Check-in hotel
Look around the village and visit Jagir waterfall ( if you are not tired of course) or we can do it in the next day
Sleep and prepare for Ijen Volcano trekking
At 12:30 midnight the tour start again, we need to drive to parking area in Ijen ( approximately 30 minutes drive from our hostel )
Then start to trekking to the top of Mount Ijen
Looking for the Ijen blue flames/lava * Ijen blue fire *
Then go up and stay on the top till sunrise
Back to parking area then drive to Jagir waterfall (if we missed the last activity)
Breakfast then continue to the place to drop you off

Banyuwangi harbour
Banyuwangi airport
Or Bali island
( Depending on your plan that you mentioned to us )
we didn't write down the clock on itinerary, you know why? because this tour is private for you, so anytime you ready we run that plan, no rush and enjoy your time
And how to book 3 Days Tour to Mount Bromo and Ijen Volcano Start from Yogyakarta and finish in Bali ?
if you wonder:
When should I visit Mount Bromo?