Booking Guesthouse or Homestay Near Ijen Crater Banyuwangi
If you wanted to visit kawah ijen " ijen crater" the first thing you should prepare is a Guesthouse or homestay near ijen crater, why we talking about guesthouse when there are many hotel in banyuwangi? that's a good question!.
The answer is simple, your money goes to the capitalist rich,if you stay in a big hotel closest to the ijen volcano , but if you stay at the guesthouse or homestay mean you help villager, people arround the volcano that run the bed and breakfast for tourist, so your visit to ijen become useful for them,
second reason is, you can feel how the indonesian daily life, stay together feel the atmosfers as your main reason to come to indonesia is to fell it, right?!
There is one village called
Glondok
in district of licin that mostly people who live there work as sulfur miner and make them house as a guesthouse for traveler that want to visit ijen crater,
wish you consider to stay, Here is a few name of its: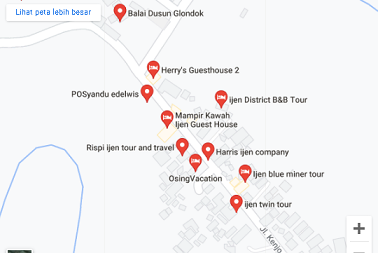 Check availability here