Kunang Kunang glamping resort in Banyuwangi is the newest hotel being built on a slope area, near a ravine in glondok, licin village, Banyuwangi district, This hotel consists of approximately 15 rooms in the form of a semi-circle🏕️, a kind of modern tent, with luxurious facilities like villas in general,🆒
Its location which is slightly away from the settlement is perfect for those of you who want to enjoy camping with *Sultan* class facilities.🤑 [Glamour camping]
But unfortunately for those of you who want to enjoy this camping room, you have to be a little bit patient because according to the official website, this kunang-kunang glamping resort hotel has only a soft opening in December 2021 and a grand opening in March 2022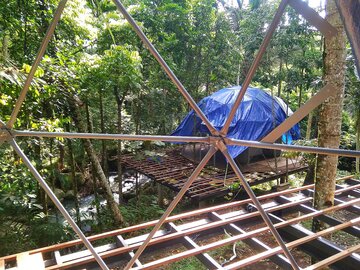 The hotel kunang kunang project is a collaboration between LABS Group and Gravity Resorts, which owns and manages seven properties across Asia. This resort can be found in Banyuwangi, which ranks second on the list of "10 New Bali". According to executives, the area has been allocated for investment by the Indonesian government as it seeks to develop the fast-growing tourism sector.
Another story✔️
with the establishment of this hotel it is feared that it will have a bad impact on the community's business that has been running for years,
Even though we know that the market for hotels and homestays is different, the existence of this hotel is still a concern for the people who manage homestays there.
Will they collaborate or will they oppress the small inns there, we'll see.🙈
If I were the manager of this hotel, I would definitely recruit the glondok community to work here to minimize horizontal and security conflicts.
The second reason why they have to recruit local residents is that the Glondok people are used to in a lodging business and hospitality, so it will be very easy to train them.
Of course for the position of ordinary employees in accordance with the level of their education. "This is just a thought that we heard when we talked in the village of glondok
"
Hopefully this hotel is wise enough to consider its local quota.✔️
So,, kunang kunang glamping resort in banyuwangi
wish you bring sunbright for local people that live there.😍✔️