Kawah Ijen Volcano
Kawah Ijen is an active volcano with an altitude of 2443 meters. The volcano has erupted four times. Once in 1796, 1817, 1913, and 1936.
Mount Ijen is so beautiful and it is a must visit when you come to East Java. To reach the Ijen crater there are two trails:
West Trail: From Situbondo to Paltuding. Approximately 93 km distance from the city to base camp. The hike is approximately 2.5-hr hike. Longer and harder hike due to the narrow and steep trail
East Trail: From Bali to Banyuwangi. Approximately 65 km from the city to base camp. The hike is approximately 1.5 hours. An easier and shorter hike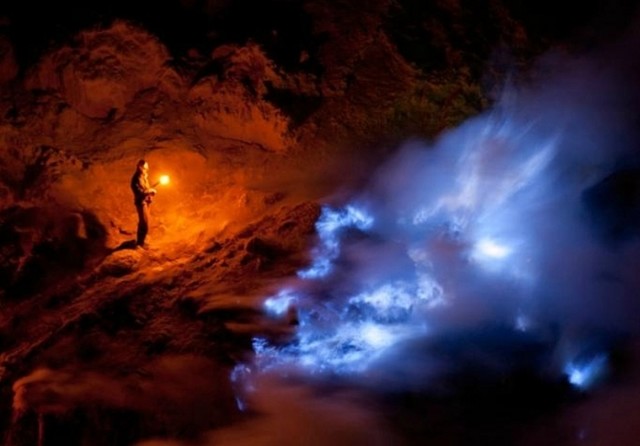 In the center of Kawah Ijen crater is the largest acidic lake in the world - Lake Toscca. Lake Toscca's acidic green-blue water is located 2368 meters above sea level, is 200 meters deep, and 5466 hectares wide crater. The volcano is a chemical and physical marvel known for its world-renowned blue flames that form the combustion and ignition of sulfur at 115 C. Ijen Crater is one of two volcanoes with rare blue sulfur flames.
The volcano and acidic is important for other reasons as well as it provides scientific study into rock dissolution, precipitation, a formation of new materials, and dissolving back substances. The volcano is also an active sulfur mine that provides 12% of the world's sulfur. Sulfur is known to treat skin diseases, is an active ingredient in acne treatments, a supplement in cosmetic ingredients, and is used to make various soaps.
Admiration for the stunning Mt. Ijen volcano does not stop here. A hike to the crater means the panoramic view of Java's untamed landscape, seascapes, and West Bali. If you hike the crater at night, you'll be welcomed with a pink and purple sunrise that washes over the entire scene for an even more mesmerizing view.
Sunrise Mt. Ijen Hike - Blue Flames Tour
The only time to see Ijen's blue flames is at night. Thus, the best time to see the flames and watch the sunrise is to hike the Mt. Ijen in the dead of night.
Touring Ijen is best around 2 AM and with a guide to be safe, enjoy the flames, and watch the sunrise. The base camp at Ijen includes camping grounds, mosque, rest area, and toilets.