You are here:
Home
> ijen crater midnight tour from bali
ijen crater midnight tour from bali
before we talk about Mount ijen crater midnight tour from bali and back to bali, lets get to know where is ijen crater ?, what is ijen crater ? where to stay near ijen crater ?, and many more information that might useful.
where is ijen crater? ijen crater located in between banyuwangi and bondowoso , there is mountains and one of them is kawah ijen the blue lava volcano.
and what is ijen crater?, ijen crater of course is a crater [kawah] made by active volcano,
There are people who work as a sulfur miner to collect sulfur, this sulfur burn mix with the oxygen become ijen crater blue fire.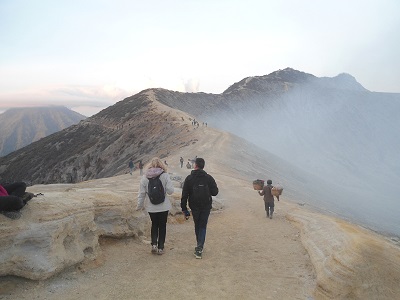 Now if you need to know where to stay near to kawah ijen?
if you book ijen crater tour from bali or
ijen crater tour from banyuwangi
there is no need to book a high price hotel cause you stay only a half night before we hike to kawah Ijen volcano. especially if you take
ijen bromo tour package
cause the tour goes straight to bromo from ijen crater so we don't comeback to our hotel.
all
hotel and hostel are about 45 mnutes drive to ijen crater
from the city but don't worry if you wanted to stay a bit closer there are one village called
glondok
there are many guesthouse and homestay to stay during your visit and enjoy
ijen crater midnight tour.
The people on this village mostly work on ijen crater as a sulfur miner, sometime become a guide for a tour that you booked on this website,
Now talking about ijen crater tour price and details, if you booking the kawah ijen midnight tour from bali package with us.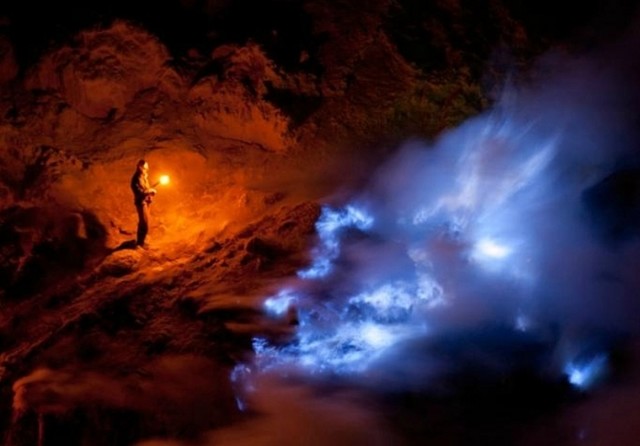 ijen crater midnight tour from bali price and detail:
First day: at 10am we will pick you up in bali area,(could be in ubud, canggu, seminyak, kuta, uluwatu,lovina, denpasar and all area)
drive by private car to gilimanuk take aproximately 2-4 hours, depend on traffic condition,, the car leave here.
Then take ferry to banyuwangi in east java, meet with my other driver and guide here, go to hotel for check in, [if we arrived early we directly visit waterfall but if you tired we can do this tomorow after kawah ijen midnight tour from bali.
At midnight we drive to ijen parking area, be prepare for trekking, !!

trekking take 40 minutes to the top and 25 minute to the crater itself, here is the place where you can see the famous ijen blue fire till you satisfied with it, then go up again to another spot to enjoy the sunrise of java on the top of the ijen crater, till the sun a bit warm get back to parking area then drive to
waterfall
[
if we miss this waterfall on the first day,
] back to hotel get breakfast and check out.
After check out we will drop you off back to bali, to the place where we pick you up or other address that mention to us and program finish.
or we can drop you back in station, airport or bust terminal in banyuwangi if wanted to continue to next destination in java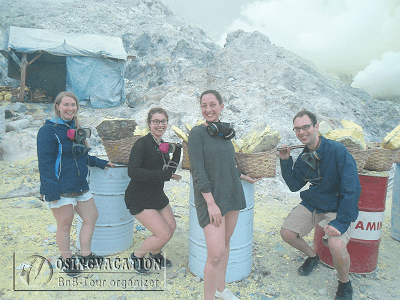 And the kawah ijen midnight tour from bali price is about USD $115/person minimum booking is 2 people and its all included:
private car
all entrance fees including ferry ticket
private guide
1 night accomodation in banyuwangi
all equipment during the kawah ijen midnight tour from bali:
Gas mask
Torch
mineral water on ijen crater
etc
pick up service from bali
drop back to bali
Cheap Option is USD$65/person. start kawah ijen crater midnight tour from banyuwangi,
mean starting point of the tour is in banyuwangi city and my team will pick you up in harbour on java side and finish in banyuwangi too.
You get all inclusion too but we make low down the specification of hotel. on this option you will stay at our guesthouse [osingvacation] on the village, were the miner lives, we called this option as community delopment project, on this program we share the job with villager so they also get benefit from your tour activity, as a guide, driver and host for your stay during the ijen crater midnight tour from bali .book ijen crater midnight tour from bali