Jagir waterfall
Jagir Waterfall or WATERFALL kampung Anyar,(twin waterfall)
called the kampung anyar waterfall because is located in the village (kampung Anyar), sub-district village of Tamansuruh, Glagah, Banyuwangi.
Jagir Waterfall is one of the destinations waterfalls that are excellent in the town of Banyuwangi. the uniqueness of this destination is the end of the three waterfalls can be enjoyed simultaneously in one place. Many designations of this waterfall, ranging from waterfalls jagir or twin waterfalls, kampung anyar waterfall, waterfalls angel, waterfalls jagir.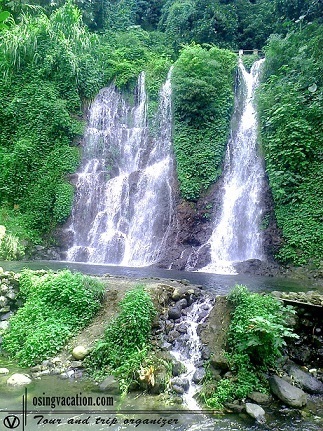 Waterfall village this latest comes from three springs that appear on top of a cliff that is the source jagir, source and source battered pawon Ijah. waterfall The most interesting here is the waterfall source pawon because flowing water is not too heavy and wide enough. The atmosphere is a cool scent of the mountains provides coolness for the end of that coming to this place. besides enjoying the view of the waterfall visitor can play / bath under a waterfall and a stream of pictures taken. not far from the waterfall, located about 200 meters to the west there is a waterfall kategan, to get to the waterfall Kategan tourists can follow the river as far as 100 meters upstream. Niagara kategan comes from a source that falls on top of the waterfall kalibendo. This waterfall is higher than the water two waterfalls before and had a fairly heavy flow of water.
This waterfall is included on ijen tour
Towards this place is easy, takes only 20 minutes from downtown Banyuwangi westward to the village or the brand-new village about 15 km. Around waterfall tourist area reserved parking area most of which are in front of the houses and stalls set up by locals. From the parking area walk down the cliff as far as 100m, amid the trip will meet a very beautiful view of the cliff, with pieces such as carved stones in diamond shiny lumps when exposed to the flow of rainwater.